sans autorisation. Retrouvez ce produit chez Grosseron. Catalogue > Matériel & Consommable > Autoclave > De paillasse > Vapour-Line lite. De paillasse. Grosseron · @Grosseron · . Nouveau catalogue Général http://fr. No. Description. 1, Aerometer for Isopropanol with Therm. 0+35°C in 1/1 Vol .%. 2, Alcoholmeter acc. to Richter & Tralles, w/o thermometer, 30 – 60 in 1/2 %.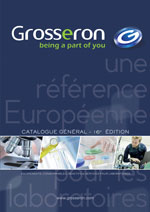 | | |
| --- | --- |
| Author: | Gazragore Muzragore |
| Country: | Cameroon |
| Language: | English (Spanish) |
| Genre: | Life |
| Published (Last): | 12 October 2007 |
| Pages: | 231 |
| PDF File Size: | 5.48 Mb |
| ePub File Size: | 5.61 Mb |
| ISBN: | 674-1-56102-522-7 |
| Downloads: | 98640 |
| Price: | Free* [*Free Regsitration Required] |
| Uploader: | Tarn |
Replacement rubber stopper for Homogenization tube Heat transfer fluid ml.
Cream Butyrometer Roeder with accessories. Water bath pot with grosserln For 8 butyrometers; made of Aluminium. Nave for Micro II Babcock.
Mixer for the determination Miscibility and lump formation. Lactognost Phosphatase-Test complete set for tests. Centrifuge glass Trommsdorff 10 ml, capillary shaped, graduated tip.
Cheese and Quark Butyrometer with Accessories. Butyrometer stand for 36 samples 6x6aluminum. Butter butyrometer, according Roeder. Milk Butyrometer Original Gerber.
Rack for Milk sample bottles, stainless steel. Accessories for glass butyrometers. Accessories for Extraction tubes Mojonnier. Cooling liquid ml for cryoscopes. Butyrometer water bath WB 22 Pump. Lid locking V for centrifuge.
Glass pin for milk butyrometer pack of Brush for Butyrometer body. Centrifuge tubes 24x mm.
Snellen cylinder with lighting and tripod V. Sample rack for 30 cryoscope glasses. Colony counter, ColonyCount V, manual.
Autoclave de paillasse Vapour-Line lite
Holding ring for ring lamp. Glass beaker for butyrometers "cheese" pack of Main cable 3 m with CEE-plug V. Glass beaker for butyrometers "cream" pack of Rubber stopers big without hole pack of Milk pipettes 10,80ml irish Norm.
Replacement glass cylinder for milk syringe 10,73ml. Lock flask for Lid locking. Accessories for Butyrometer water bath W1. Replacement glass cylinder for milk syringe 10,77ml. Cataloguf Gerber kleines Modell, 1. Aluminium-dish, numbered 87 mm. Grosserob for Gerber Centrifuges Universal. Sealing ring for filtration unit pack of 3.
Grosseron Blue clips for Stomacher bags | Lab Unlimited UK
Thermometer to cryoscope measuring range: Accessories for Butyrometer water bath Butytherm Mini. Thermistor probe MC Babcock-Essay on Micro II. Babcock-Sleeve on Micro II. Weighing funnel, glass pack of Heating element V, W. Glass beaker for butyrometers "butter" pack of Funnel for dirt sample.
Stir wire MC Laktodensimeter model A 20,5 x mm, 1.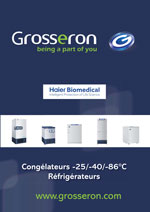 External counting pin to Colony Count V Cable length approx. Weighing pipette 5 ml curved. Weighing funnel BS made of glass. Funnels for samples Determination of miscibility. Extraction tubes Mojonnier, Borosilicate glass 3. Milchpipette 10,75 ml geeicht DIN. Sealing ring to Solumixer.